What to expect in worship
Worship Opportunities During COVID-19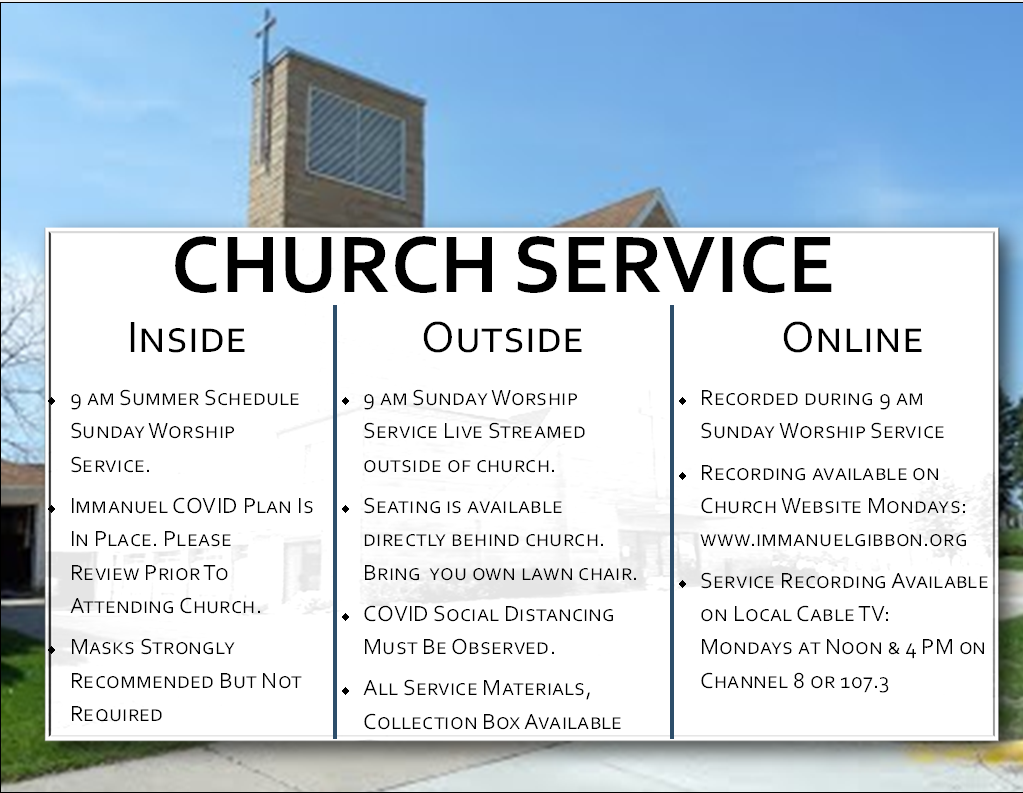 Inside
9 am summer schedule Sunday Worship  Service.
Immanuel COVID Plan is in place. please review prior to attending church.
Masks strongly recommended but not required
Outside
9 am Sunday Worship Service live-streamed outside of church.
Seating is available directly behind church. Bring  you own lawn chair.
COVID social distancing  must be observed.
All service materials, collection box available
Online
Recorded during 9 am Sunday Worship Service
Recording available on church website Mondays: www.immanuelgibbon.com 
Service recording available on local cable TV:  Mondays at Noon & 4 PM on Channel 8 or 107.3
July 5, 2020 Immanuel Updates due to the COVID-19 outbreak:
In-Church Services continue this week.   This service will be videotaped and will be ready for viewing by Monday Evening.
There is communion this week – see your email for more details on how this will work.
Please send your email address to secretary@immanuelgibbon.org to be included in future email updates.
The Lord's richest blessings to you all during this time of transition.
Bible Class Info
Immanuel Lutheran Church

Sundays after the 9 am Worship Service  (10:30 am start time)
Online and in church  
Hosted by Pastor Steve Bauer
Topic: Know Jesus as your God
Due to privacy concerns, the link to the online Bible Study will not be posted here.  Please check your email for more information.  If you are not receiving emails from us yet, let secretary@immanuelgibbon.org know!
Thanks be to God for your generosity
Offerings to the Lord for his work can be sent
via the US Postal Service into the church office – Attn: Immanuel Treasurer, PO Box 88, 1380 First Avenue, Gibbon, MN 55335. (please no cash/coins)
If you have an account at Minnwest Bank and would like to set up an automatic  transfer to Immanuel Lutheran Church's account please call  Minnwest Bank directly and they would be happy to assist you  (507-834-6577). 
If you do not bank at Minnwest, please check your bank's bill pay options.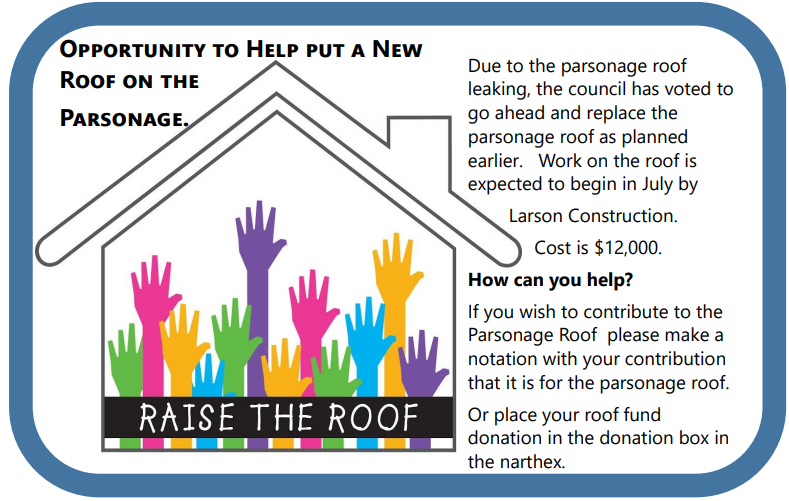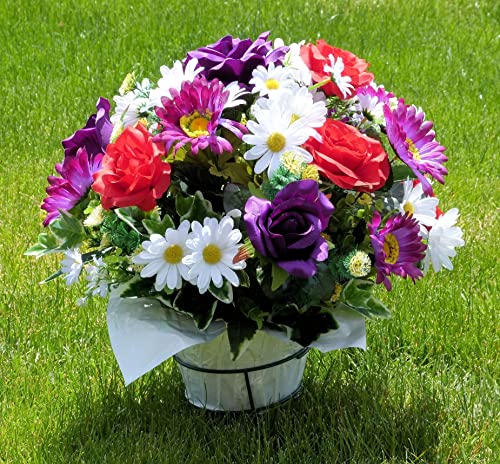 Sign up to have your cemetery flowers managed for the summer
Service Times:
School Year 
(Second Sunday in September through Memorial Day)
Worship Service:
10:00 a.m.
Sunday School and Bible Class:
8:45 a.m.
Summer
(First Sunday in June through Labor Day)
Worship Service:
9:00 a.m.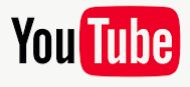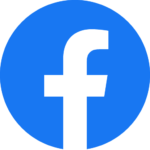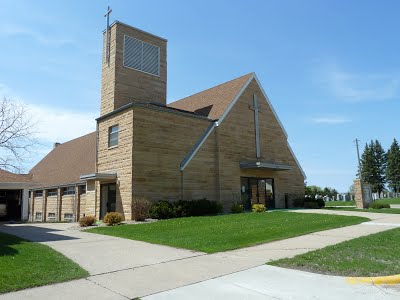 Immanuel Lutheran Church
1380 1st Ave, Gibbon, Minnesota 55335
507-834-6105
Join us!
Sign up below to keep informed about church events and announcements.