Trust the One who has power over death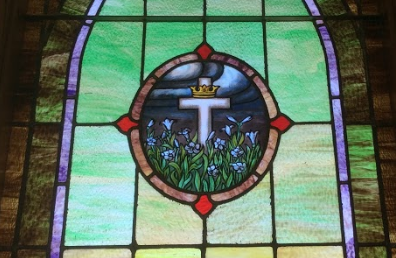 Read the sermon
What Daughter Will You Choose?
You can't play favorites. Way back in the book of Genesis we hear of a father who played favorites. He had many sons. But out of them all, he had a favorite. The dad was named Jacob. The favored and favorite son was Joseph. His favoritism set in motion a chain of hatred that did not come to an end for years after that. When you are a parent, you can't play favorites. But, what if you had to? What if you were put in a life and death situation where you had to choose one daughter over another? Which will you choose? It's one of the scariest questions I've had to ask myself in preparing for a sermon. And it's important to speak about because in these words, Jesus is forced to choose between two daughters. And as we travel through Mark 5 we wonder which daughter he will choose. In Mark 5, we read: "21 When Jesus had again crossed over by boat to the other side of the lake, a large crowd gathered around him while he was by the lake. 22 Then one of the synagogue leaders, named Jairus, came, and when he saw Jesus, he fell at his feet. 23 He pleaded earnestly with him, "My little daughter is dying. Please come and put your hands on her so that she will be healed and live." 24 So Jesus went with him." (Mark 5:21–24 NIV11-GKE)
In these words there is a leader of a synagogue who comes up to Jesus with a pressing problem. His daughter is at the end of her life.1 He begs Jesus to come with him and heal his daughter. Jesus begins to go with him. But there is this huge crowd that Jesus is plowing his way through. And as he is making his way through the crowd to the synagogue leader's house, there is a different daughter who sees Jesus. This daughter needs his attention too. And we wonder which one Jesus will choose: "24 A large crowd followed and pressed around him. 25 And a woman was there who had been subject to bleeding for twelve years. 26 She had suffered a great deal under the care of many doctors and had spent all she had, yet instead of getting better she grew worse. 27 When she heard about Jesus, she came up behind him in the crowd and touched his cloak, 28 because she thought, "If I just touch his clothes, I will be healed." 29 Immediately her bleeding stopped and she felt in her body that she was freed from her suffering." (Mark 5:24–29 NIV11-GKE)
Jesus is plowing his way through the crowd and we are introduced to a woman. She had been subject to bleeding for twelve years. And it's important to have a look at what that meant for her. What that meant was that she had continual separation. In the Old Testament laws a woman was ceremonially unclean until she was done bleeding. This woman had been bleeding for twelve years. Imagine twelve years away—away from being able to go to the temple and have her sins covered with the sacrifice of animals that connected her to a sacrifice that would cover her sins. We had to endure months without being able to gather together. Imagine twelve years.
But she wasn't just continually separated. She was also continually suffering. In her bad health she reached out to the doctors of her day. And she spent all her life-savings.2 And in return for spending all she had, her condition got worse. And she lived that way for twelve years. And in the words that follow, we see that Jesus chooses her: "30 At once Jesus realized that power had gone out from him. He turned around in the crowd and asked, "Who touched my clothes?" 31 "You see the people crowding against you," his disciples answered, "and yet you can ask, 'Who touched me?' " 32 But Jesus kept looking around to see who had done it. 33 Then the woman, knowing what had happened to her, came and fell at his feet and, trembling with fear, told him the whole truth. 34 He said to her, "Daughter, your faith has healed you. Go in peace and be freed from your suffering."" (Mark 5:30–34 NIV11-GKE)
Notice Jesus does for her. First, he gives her a voice. Twelve years was a long time. In that time, how many doctors who, on the one hand, took her money, but then, on the other hand, when it came time for the healing and it didn't happen, silenced her. Maybe she silenced herself. Why bother? Why bother going up and speaking to Jesus. Why bother speaking to him about her embarrassing pain? So she takes a short cut and cheats. She reaches out believing that Jesus can heal her. She then she was healed.
You would think that that would be the end of the account. She goes her way, and Jesus goes his. But, as we see, it doesn't unfold that way. Jesus chooses her. He turns around. He asks who it was who touched her. And the disciples ask the sort of question we all might in their shoes. The question was not who did touch her. The question was who didn't touch her. There was a crowd there pressing against him. But Jesus stays there. He asks the question and does not budge. And finally she breaks down and speaks and when she speaks the dam breaks and she cannot stop speaking. She tells him all the truth.3
Now, my dear friends, look clearly at what was going on here. It might seem that Jesus was showing a sort of tough love. And maybe there's a little of that here. But really, most of all what he is doing is giving her a voice. How long was it after twelve long years that she gave up speaking and praying? How many doctors and even family members turned their ears off when she lifted up her voice? And after a while, it is ever-so-easy to live down to the expectations put on you. Jesus gives her a voice and then ever-so-patiently listens while she pours out her pain.
And after he gives her a voice, he gives her his victory. He calls her, "daughter." How often had her pain preached to her that she was not a daughter who belonged to God, but instead was despised by God? And yet, here he is, calling her "daughter." Then he let's her know that her faith has saved her. What an amazing statement to say. Jesus was the one who would die on the cross. Jesus was the one who would save her. And he says that her faith saved her. He gives her the victory. And it comes to her through the gift of trust and confidence that he chose to give to her.
How encouraging these words are to us. For there are people in our lives who are in chronic pain like this woman was. And we can fail them. After a while, they know that we cannot help them. And maybe no one—not even the best doctors can help them. But, at the very least, we can listen. At the very least we can give them a voice. And it's so easy to silence them. How amazing for us it is to have a Savior who listens and is patient in our place, forgiving our impatience. And so, Jesus chooses this woman who, for twelve years was in pain. He gives her a voice. And he gives her his own victory. But, what about the synagogue ruler? What is going on with him while all of this is going on? "35 While Jesus was still speaking, some people came from the house of Jairus, the synagogue leader. "Your daughter is dead," they said. "Why bother the teacher anymore?" 36 Overhearing what they said, Jesus told him, "Don't be afraid; just believe." 37 He did not let anyone follow him except Peter, James and John the brother of James. 38 When they came to the home of the synagogue leader, Jesus saw a commotion, with people crying and wailing loudly. 39 He went in and said to them, "Why all this commotion and wailing? The child is not dead but asleep." 40 But they laughed at him. After he put them all out, he took the child's father and mother and the disciples who were with him, and went in where the child was. 41 He took her by the hand and said to her, "Talitha koum!" (which means "Little girl, I say to you, get up!"). 42 Immediately the girl stood up and began to walk around (she was twelve years old). At this they were completely astonished." (Mark 5:35–42 NIV11-GKE)
Just put yourself in the sandals of the Jairus. Jesus goes with him for a little while. And then there's this woman who gets in the way. Jesus chooses to stay. Jesus chooses to stay and give this woman a voice and listen to her. And, in the meantime, what happens? His daughter dies. Jesus made his choice and there were consequences. But look at what Jesus does. He does not allow this conclusion to stand. He looks right at Jairus and tells him to continue to believe.4 He goes into his home. And all the mourners are already there, grieving and mourning for the daughter. And what does Jesus do? He tells them all that she is just sleeping. He kicks them all out and then he heals her.
But my dear friends, look how he heals her. He gives her a voice and his own victory. Jesus could have just simply thought the command to give her back her breath and life. Instead, he takes her hand that was already beginning to grow cold and speaks words that would say if she had her voice. He tells her, "Get up, little girl."5 The voice that her body could not say anymore, he said for her. And then he so graciously gives her not just a voice, he also gives her victory—his victory.
In these word, can't we see our own weakness and frailty? You can't choose both. Jesus had to choose either one daughter or the other. Jesus had to choose either to give a voice or a victory. And what does Jesus choose? He choses to give both. He gives both a voice and a victory. He chooses both daughters. How weak and frail we are so often that we limit our Savior. How much we need Jesus to tell us those words, "continue to believe." Look how good and gracious our Savior is. For he gives each of us a voice and a victory too. He gives us the ability to speak to him in our prayers and he promises to listen. And he gives us the victory. The victory that he wins over demoralization and death he gives to us. So my dear friends, live knowing this fact. There might be times in our lives when we are unable to choose both. But Jesus does. Jesus chooses each of us. And he gives each of us a voice and his very own victory. Amen.
---
1
"ⲉⲥⲭⲁⲧⲱⲥⲉⲭⲉⲓ·" (Mark 5:23 GNT-ALEX)
2
"ⲇⲁⲡⲁⲛⲏⲥⲁⲥⲁⲧⲁⲡⲁⲣⲁⲩⲧⲏⲥⲡⲁⲛⲧⲁ·" (Mark 5:26 GNT-ALEX)
3
"ⲡⲁⲥⲁⲛⲧⲏⲛⲁⲗⲏⲑⲉⲓⲁⲛ·" (Mark 5:33 GNT-ALEX)
4
"ⲡⲓⲥⲧⲉⲩⲉ·" (Mark 5:36 GNT-ALEX)
5
ܛܠܺܝܬ݂ܳܐ ܩܽܘܡܝ
(Mark 5:41 PESHNT-T)