The Savior is anointed. Isaiah 42:1-7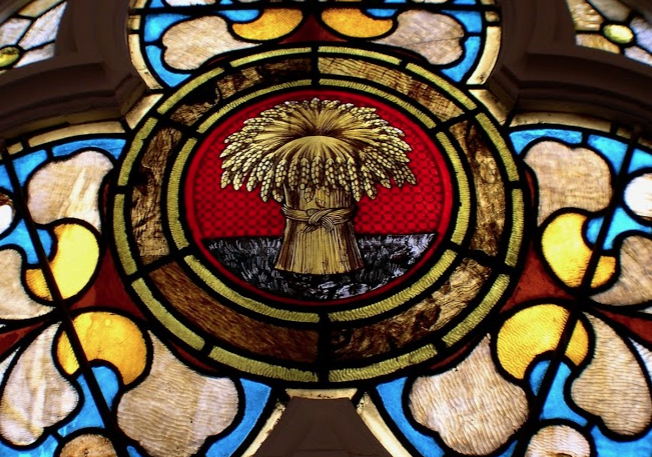 Sermon
Why Is The Father So Pleased?
That father was so pleased. Years ago there was a father whose daughter. He had paid for his daughter's music lessons for many years. He had seen and heard her grow in her musical ability. She even went to college to learn how to be a music teacher. And at the end of all her learning she had an organ recital. She poured her heart, her time, and all she had into it. And on the day of her recital, when she was done, the dad had this smile on his face. And, for the rest of the day, there was nothing that could take that smile off of his face. There was a father who was pleased with his child. This morning we hear about a different father who was pleased with his child. This morning we celebrate the fact that Jesus was baptized. And, at the tail-end of those words, Our Father in heaven says this about his son: ""This is my Son, whom I love; with him I am well pleased."" (Matt. 3:17 NIV11-GKE) In the words here from Isaiah we have the immense privilege of seeing why the Father was pleased with his Son. In Isaiah 42, we read: "1 "This is my servant; I strengthen him, this is my chosen one; I delight in him. I have put my Spirit on him; he will bring justice to the nations. 2 He will not cry out or shout or make his voice heard in the streets. 3 He will not break a bruised reed, and he will not put out a smoldering wick; he will faithfully bring justice. 4 He will not grow weak or be discouraged until he has established justice on earth. The coasts and islands will wait for his instruction."" (Is. 42:1–4 CSB17)
In the context here in these words, for a number of chapters, through Isaiah, the Lord is letting his people know about this Servant of the Lord who will come. In a very wondrous and wonderful way, the Lord is letting his people know who Jesus is and what he will be like hundreds of years before he is born. And what is the main detail that we find in these words about this Servant of the Lord? The Lord says, "I chose him and I am well-pleased in him."1(Is. 42:1 HMT-W4)} et "ⲟⲁⲅⲁⲡⲏⲧⲟⲥⲉⲛⲱⲏⲩⲇⲟⲕⲏⲥⲁ·" (Matt. 3:17 GNT-WAS)} And then our Father in heaven tells us why. The Father is so pleased with his son because his Son is humble towards us. He uses two pictures to preach this. First, there's the picture of the bruised reed. Reeds are these round, hollow plants. And the nutrients and the water are at the bottom. And they need to get to the top. But if someone comes along and steps on that reed so that it's now bent, then there's a real question mark as to whether that reed will live. The second picture is like the first. It's the picture of the smoldering wick. Here in our congregation one of the ways our confirmed members can help and serve is being an usher. And one of the usher duties is lighting the candles. And, every now and then, there's a new usher who comes in. He or she lights the big candle-ligher we have. And they leave my office and go out to light the candles. Then, about 10 seconds later, they're back. What happened? the candle flame went out. If you walk too fast, or if you don't protect that flame, there is this instant and moment where there's a huge question mark. Will that flame go out and die, or not?
With these pictures, the Lord is speaking about us. There are many different ways that the bible speaks about and describes sin. One of those ways is sins of weakness. We know what the good and right action to take is. But we are frail and we fail. And this pattern of failing goes on all throughout our lives. How long with God put up with us? Will there come a time, when, for example, after we've told the 5000th lie to ourselves or others, that God will come along and just snuff us out? It isn't as if we didn't deserve it?
Here is where we get an answer to the question. Why is the Father so pleased with the Son? He is humble towards us. And what does that humility mean towards us? First of all, it means our forgiveness. I am a dad. And all of you who have been parents know what this is like. It is so easy to misdiagnose a person's soul. Your child does what is wrong. And there may be those times when your child is stubborn and needs a strong, unyielding reaction to sin. But, my dear friends in Christ, not every situation is like that. There are those times your child does what is wrong because they are frail and fail. And we can come into the situation with shock and awe and anger, only to find out that, even before we opened our mouths, that child was repentant. It is easy to misdiagnose a person's soul, giving them more judgment, when what they need is forgiveness. Not so with Jesus. Jesus was perfectly humble as a human. And Jesus knows all the thoughts in our hearts. So, he is able to see that we are frail and that we fail. He is humble in our place, perfectly trusting his Father. And what that means for us is forgiveness. The times when we were weak are forgiven. For God sees our Savior's faithfulness instead of our weakness. The times we misdiagnose a person's soul because we just don't know. Those sins too are forgiven by a Savior who knows all. Now can you begin to see why the Father is so pleased with his Son? Jesus is humble for us. But there's another reason: "5 This is what God, the Lord, says— who created the heavens and stretched them out, who spread out the earth and what comes from it, who gives breath to the people on it and spirit to those who walk on it— 6 "I am the Lord. I have called you for a righteous purpose, and I will hold you by your hand. I will watch over you, and I will appoint you to be a covenant for the people and a light to the nations, 7 in order to open blind eyes, to bring out prisoners from the dungeon, and those sitting in darkness from the prison house." (Is. 42:5–7 CSB17)
The Father is so pleased with the son because the Son is humble for us. But notice here where the Lord takes us. The Father is pleased with the son because the son is helped for us. In these words, in the most gentle and kind way the Father holds his Son's hand.2
And the Son lets him. He is willing to be helped. You see this with parents and children. When they are tiny, they are willing to be carried and helped because they don't know it could be any different way. But they get a little bigger, about three years old, and a natural part of their growth is that they want to do things more on their own. And there will be those times when the mom or dad reaches down to hold the child's hand. And the child will ignore the parent or even slap the hand away. Now, sometimes, this is normal and natural. But other times they still need help. But they don't want to admit it.
The same is true for grown-ups, isn't it? There was a grandpa whose computer wasn't working. So he made his grandson fix it. His grandson did just that. He fixed it and brought it back to him. The grandpa got angry because one of the programs on the computer was gone. And the grandson let grandpa know that the app was gone because it was 15 years old and the company that made that app didn't exist anymore. We never grow out of this stage, do we? We either don't want help when we do actually need it. Or we don't like the help we get when we receive it. Not so with Jesus. How amazing it is to think through these words. A few weeks ago we celebrated the fact that God took on human flesh and blood. In a great mystery God who needs no help at all takes on a human body. And, as a human, Jesus needed help from others. When Herod tried to kill Jesus, as a child, he was carried away to Egypt. But here's where it becomes so beautiful for us: Jesus was willing to be helped. Where we are stuck in our ways and stubborn, Jesus is not. In an amazing way, the Father takes Jesus by the hand. And Jesus lets him.
And what that means for us is forgiveness. For here in these words we find a Savior who was helped in our place. God does not look down and see our stubbornness. Instead, he sees his Son's willingness to be helped in our place. And that, my dear friends in Christ, is why the Father was so pleased in his son. Jesus was humble in our place. And Jesus was willing to be helped in our place. And if the Father was so pleased in his Son, don't we have the same invitation? Let us too honor, praise, serve and obey Jesus. Let us stand in awe that Jesus was what we could never be. Jesus was humble towards. And Jesus was willing to be helped for us. Amen.
---
1 "הֵן עַבְדִּי אֶתְמָךְ־בּוֹ בְּחִירִי רָצְתָה נַפְשִׁי"
2 "וְאַחְזֵק בְּיָדֶךָ" (Is. 42:6 HMT-W4)