Reformation Sunday – Stand firm as you preach the gospel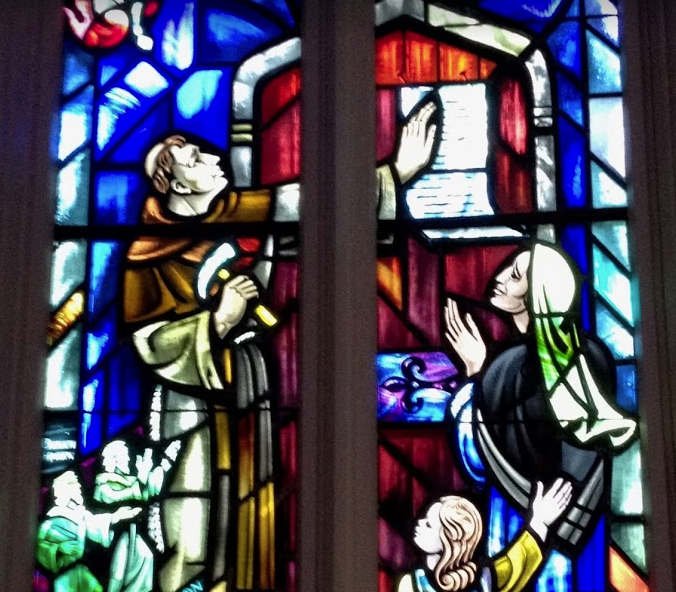 Read the sermon
Stand For Jesus
Head knowledge is not heart heart knowledge. Head knowledge is not hand knowledge. Many years ago I took hunters-safety class. I passed the class. But, then, when I was out hunting the first time, I seemingly forgot it all. I had no hand-knowledge. There I was, every now and then, pointing my gun in directions I shouldn't have. I didn't have heart-knowledge either. I remember sighting in on a big doe, and having this internal dialogue as to whether it was ok to kill an animal. Head knowledge isn't the same as hand and heart knowledge. And this morning there is where we need to start. For, up until this point in Martin Luther's life, he had the opportunity to gain head knowledge. And that head knowledge is found here in Matthew's gospel: "24 "The student is not above the teacher, nor a servant above his master. 25 It is enough for students to be like their teachers, and servants like their masters. If the head of the house has been called Beelzebul, how much more the members of his household! 26 "So do not be afraid of them, for there is nothing concealed that will not be disclosed, or hidden that will not be made known. 27 What I tell you in the dark, speak in the daylight; what is whispered in your ear, proclaim from the roofs. 28 Do not be afraid of those who kill the body but cannot kill the soul. Rather, be afraid of the One who can destroy both soul and body in hell." (Matt. 10:24–28 NIV11-GKE)
There were truths that Luther knew from God's word. First, he knew that if Jesus was persecuted, we will be too. Second, he knew that he wasn't supposed to be afraid. Third, he was supposed to speak. And in 1521, 500 years ago, he had the opportunity to see whether his head knowledge had moved from into his hands and heart. He was put on trial. And he was told both by the king and the representatives of the Pope that if he did not take back everything he had written, he would be found guilty and burned at the stake as a heretic. And at the very moment he was supposed to not be afraid and was supposed to speak, he collapsed. He refused to answer. Instead, he asked for more time to reach a conclusion and decision.
This event speaks to us today. For there might be a time when we are called on to stand for Jesus in life-and-death ways like Luther was. And, like Luther, we too might collapse. For it's hard to take what we know in our heads and have it transfer to our heart and hands. And, at those times, it's important for us to know that there is forgivness for those sorts of sins too. If you want an example in the bible, just look at Moses. At 40 years old he runs from Egypt, ashamed that he killed an Egyptian. 40 years later the Lord called him to be his chosen prophet. And Moses was afraid and gave the Lord one objection after another. But the Lord kept repeating those amazing words, "I am with you." We are not alone. But even more than that, we look to Jesus. Jesus was intimidated and tempted to leave. For he knew that the end of his earthly life ended in torture and death. But eventhough he was tempted he did not give in. And that faithfulness pays for the times our head knowledge didn't translate into heart and hand knowledge.
---
Standing for Jesus brings problems. But, as we look at Luther's life, we also see that standing for Jesus also brings promises. In Matthew 10, we read: "29 Are not two sparrows sold for a penny? Yet not one of them will fall to the ground outside your Father's care. 30 And even the very hairs of your head are all numbered. 31 So don't be afraid; you are worth more than many sparrows. 32 "Whoever acknowledges me before others, I will also acknowledge before my Father in heaven. 33 But whoever disowns me before others, I will disown before my Father in heaven." (Matt. 10:29–33 NIV11-GKE)
Luther collapsed, asking for more time. And I don't know about you, but if I had that time, I might have been tempted to run as far and fast as I could away from the problem. Luther didn't. Instead, Luther had the time to take these words to heart. Look at the promises that we read in these words: First, If God cares for birds, doesn't he also care for us? Luther, then, and we too today, can look at the ways that God cares for his creation. But on the cross we see the cost of our Father's care. The son had to die because of our sins. And he did this willingly. So if he cares for little creatures, he will care for us. If Jesus died for our sins, he will be there with us when we are called on to speak for him. But there's a second promise. When there are those times when we are called on to speak courageously for Jesus, Jesus makes this amazing promise that as we speak for him in front of people, Jesus will speak about us in front of his Father.
My dear friends, it has become predictable and popular now days to look back 500 years ago and conclude that not only did Luther take his faithful stand for Jesus, but that it was easy and natural for him. Not true at all. Luther was flesh and blood as we are. He failed before he was faithful. He needed his Savior just as much as we do: both for forgiveness and for courage. For standing for Jesus doesn't just bring problems; it also brings promises.
---
Standing for Jesus brings problems and promises. But it brings one final fact. It brings precision. Taking our stand for Jesus makes us ask some important questions: Is this worth standing for? What is it that I'm standing on? After Luther had a day to delay, he gave his response. And this was his response:
Therefore, since your serene majesty and your Lordship seeks a simple response, I will give one, neither with horns nor teeth, in this manner: Unless I am convinced by the testimonies of the scriptures, or by clear reasoning (for I put my trust in neither a pope or a council alone, when it is well-known that they have often erred and contradicted themselves)—I am conquered by the scriptures I have drawn together here. And my conscience is held captive in the words of God.1
There is this amazing clarity and precision that came from Luther's time of testing. What is it that you will stack your eternal life on at the end of the day? Luther was put on trial. And they demanded that he submit to the pope and church councils. But you cannot trust popes. For they contradict each other. You cannot trust church councils. For they contradict themselves. And there are times that the popes and councils contradicted each other. The Lord led Luther to this precision: Take your stand not on people out there. Instead, take your stand on God's word.
But Luther's precision didn't stop there. Also, don't base your salvation on reason and emotion. You can strongly feel emotions. But it doesn't mean that what you feel is true. Someone can convince you of a thought. And that person sounds convincing—at least until the next guy gets up and speaks. Then you follow that guy. We cannot trust our emotions. We cannot trust our own powers of reason. Above them both, as Luther, at great cost to his life, says, our consciences are held captive to the words of God.
And this leads us to answer one final question: Why? Why is there testing from God? Why are there traps from people? In Luther's life we the truths of scripture being fleshed out for us. First, standing for Jesus moves our head knowledge into our hearts and into our hands. What we know, we trust. And since we trust our Savior's promises, we can take confident actions. Second, we respect God's promises more and remember them in a different light when we are tested. The fact that we are worth more than birds—worth so much that Jesus died for us, means more to us when we are tested and it seems like we are alone. And finally, testing brings precision. Luther learned not to rest his salvation on the conflicting words of popes and councils. He learned to not rest his salvation on the flimsy, fickle thoughts and emotions inside of him. Instead, what was reliable was outside of him: the unchanging word of God. So my friends in Christ, stand for Jesus. Stand for him knowing that it will bring problems, promises, and precision. Amen.
---
1
Quando ergo serenissima Majestas vestra Dominationesque vestrae simplex responsum petivit, dabo illud neque curuatum neque dentatum in hunc modum: 'Nisi convictus fuero testimoniis Scripturarum, aut ratione evidente (nam neque Papae, neque Conciliis solis credo, cum constet eos et errasse sepius et sibi ipsis contradixisse) victus sum, scripturis a me adductis, et capta conscientia in verbis dei