Maundy Thursday – The Establishment of The Lord's Supper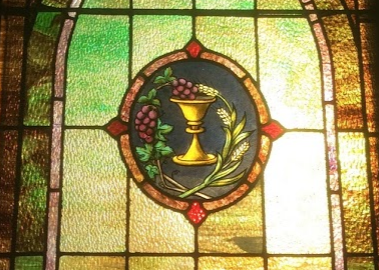 Take Care In What You Share
What you share in affects and infects you. It's almost springtime. And growing up in MT, spring time was a wonderful, amazing time of the year. For two, glorious weeks the grass was green. The creeks were full of water. And that water would pool together in ponds. There was one pond in particular that was close to my house. And I remember one spring time when, for some reason that I cannot even remember now, I swam across that pond. That was a mistake. The pond smelled horrible. It smelled horrible before I even began to swim there. I got half way across and recognized that it smelled even worse. But I had no choice. I either swam all the way across, or I drowned. Right away I knew that was a mistake. But, for several days after, the slime and stench of that pond stayed with me. Shower after shower, it wouldn't go away—for several days. That day was a powerful teaching to me on that day. I learned to take care in what I shared. When you share in something it affects you. And, when it came to the bacteria in that pond, it might even infect you. This evening in God's word we have the same important teaching to take to heart. Only God's word isn't speaking about ponds and slime. In 1 Corinthians 10, we read these words: "14 So then, my dear friends, flee from idolatry. 15 I am speaking as to sensible people. Judge for yourselves what I am saying." (1 Cor. 10:14–15 CSB17)
In these words, the apostle Paul urges the Christians in Corinth to flee from idolatry. And that makes us ask what idolatry is. Idolatry is when we worship someone or something other than the Lord. And at first this seems like an easy topic to cover. We all know that there's only one God we worship. It's the Triune God. But it's not that easy. In the Large Catechism, Martin Luther reminds us what it means to have a god. To have a god is where you go for help when times are bad. To have a god is what you dream and desire as the most good. When we begin to understand this, we begin to realize that each of us doesn't just have one idol. We have many. When times are bad, it's ever-so-tempting to put our money, our insurance, our doctors, our family above Jesus himself. On the other hand, it's ever-so-easy to find more joy, awe, and wonder in watching a movie than in reading the bible. Each of us had idols. And Paul, in these words, urges us to run from them. After Paul mentions this, he goes in an interesting direction: "16 The cup of blessing that we bless, is it not a sharing in the blood of Christ? The bread that we break, is it not a sharing in the body of Christ? 17 Because there is one bread, we who are many are one body, since all of us share the one bread." (1 Cor. 10:16–17 CSB17)
Paul, in such clear and sincere language, tells us that, when we receive the Lord's Supper we share in Jesus' body and we share in Jesus' blood.1 It's important for us to understand what Paul is saying here and what he is not saying. Paul, here, is not using figurative, metaphorical language. He is not saying saying that the cup is a picture of Jesus' blood. He is not saying that the bread is a picture of Jesus' body. We know this because he could have said it differently. If that were the case, he would have said that we share in wine and bread. No, he says that we share in Jesus' body and blood. But, on the other hand, he does not say that we share in Jesus' body and blood in cannibalistic way—as if we chew on Jesus' bones and guzzle down his blood. No, instead, in a real, but supernatural way, we receive what God's word promises that we receive. We share in Jesus' blood. We share in Jesus' body. And that's important to understand as we read the final words in this section: "18 Consider the people of Israel. Do not those who eat the sacrifices participate in the altar? 19 What am I saying then? That food sacrificed to idols is anything, or that an idol is anything? 20 No, but I do say that what they sacrifice, they sacrifice to demons and not to God. I do not want you to be participants with demons! 21 You cannot drink the cup of the Lord and the cup of demons. You cannot share in the Lord's table and the table of demons." (1 Cor. 10:18–21 CSB17)
In this final section Paul lets us know that when we engage in idolatry, we share in that which is evil. In the context in Paul's city, the followers of Zeus or Artemis would slaughter a bull at the top of the hill in the temple dedicated to those Gods. Then, at the bottom of the hill, that meat was sold at a discount rate to whomever wanted to buy it. And notice what Paul says. On the one hand, that animal, both before and after the sacrifice, belonged to the Lord, not to Zeus or Apollo or Artemis. But the worship of those false idols was a different matter. Joining in worship in idolatry joined them and made them share with demons.
And the point Paul makes to them he makes to us today: You cannot share in Jesus' body and blood and then share in idolatry. The evil out there in the world and here in our hearts affects us and eventually infects us. It's like that slimy pond I swam through. I couldn't get the stench off my skin for several days. The same is true with our desires. You cannot share in idolatrous desires and also in Jesus' body and blood. And this is where we face unique temptations. We have this temptation to compartmentalize our lives and subdivide our hearts. In closed, dark rooms we create space for desires that are against God's word. And then, in another room, where we allow the light to shine, we allow God to be, exist, and preach to us. But in our hearts there is this temptation to put up a border and barrier. We like to share in Jesus' body and blood. Then we like to dive into our idolatrous desires pretending that the preaching of God's word ends when it reaches this barrier in our hearts. James describes it this way: "Out of the same mouth come praise and cursing. My brothers and sisters, this should not be." (James 3:10 NIV11-GKE)
And so, my dear friends in Christ, what is our reaction and response when we see in our hearts that we are making rooms and subdividing them.? We share in idolatrous desires in one room and then in the other we share in Jesus' body and blood. What is our reaction to this? We repent. We repent and let Jesus shine into every room in our heart. For we want to share in Jesus' body and blood and drive out the idolatry. And in that context there's a beautiful passage in the bible. It reads: "But if we walk in the light, as he is in the light, we have fellowship with one another, and the blood of Jesus, his Son, purifies us from all sin." (1 John 1:7 NIV11-GKE)
What does blood do? Blood that is not holy stains you. But in a very amazing way, blood that is holy purifies you. When I had gotten home after swimming across that pond, I went through the house, looking for soap. And nothing worked. They made me smell flowery for a little while. But then the slime and stink would re-emerge. Finally I found the lemon flavored pumice goop in the garage. That was the only soap that got the job done. It cleaned. It purified. But that's just my body. When we share in Jesus' blood, it purifies us from sin.
So my dear friends in Christ, take care in what you share. Always be willing to ask yourself, "is this desire I have—that I share in being put under of over Christ in my heart?"" Or, even worse, is it driving Jesus out of my heart as it wears down my conscience? If so, day after day, we repent of our sins. And in the Lord's Supper we share in Jesus' blood. And we share in Jesus' body. And his blood purifies us from all unrighteousness. Amen.
---
1
"ⲕⲟⲓⲛⲱⲛⲓⲁ" (1 Cor. 10:16 GNT-ALEX)