Lent 5 – Christ Draws All Men to Himself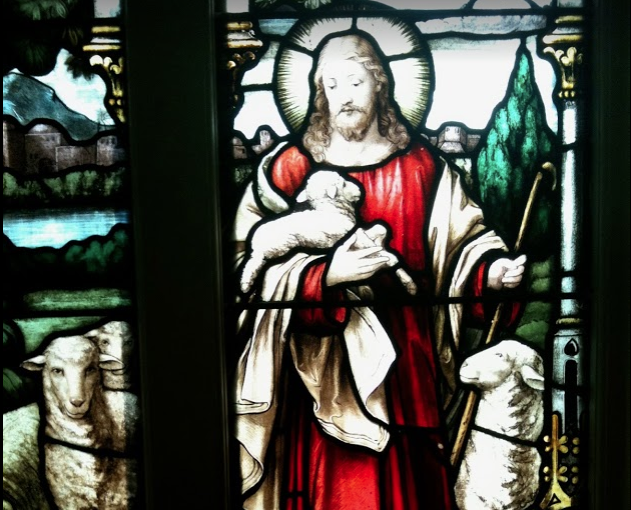 Do Not Fear
Guilt by association. Growing up in MT, especially during the summer, there was not much to do. And there were times my brother and I got into trouble. Dad would find out what one of us did wrong. And, usually when we were together, he would confront one of us. He would say, "Dan, did you do this?" My brother would confess. And it would all work out. Then, he would turn to me and say, "Stevie." And that moment my heart would drop. I would think to myself, "uh oh, he found out about the bad thing I did and now it's getting back to me.'" Sometimes he'd show me my sin and I'd have to confess. Sometimes he did not find out. So, he'd have to just stand there, staring at me. Then he'd say, "go clean your room." There is this specific kind of fear that hand grow in you when you when someone else is punished and you know that you are worthy of being punished next. That's the context we find in God's word here this morning in Isaiah 43: "1 Now this is what the Lord says— the one who created you, Jacob, and the one who formed you, Israel— "Do not fear, for I have redeemed you; I have called you by your name; you are mine. 2 When you pass through the waters, I will be with you, and the rivers will not overwhelm you. When you walk through the fire, you will not be scorched, and the flame will not burn you. 3 For I am the Lord your God, the Holy One of Israel, and your Savior." (Is. 43:1–3 CSB17)
Just before the Lord speaks these words he has spent mass amounts of time and spoken many words against the torturous non-believing nations. He has threatened punishment and disaster against them. Then, after promising all this punishment to the nations, he turns his direction to the Jewish people in Babylon. How scary that must have been. For they knew that they deserved God's wrath and punishment just as much as the nations around them did. But instead he says these amazing words, "Do not fear," (Is. 43:1 CSB17)1 And he adds this amazing reason why they do not need to be afraid: "I have redeemed you" (Is. 43:1 CSB17)2 Their sins were paid for by a Savior would be born in the promised land they would return to.
But these words were also written to us and for us today. The Lord invites us to not fear. And the reason we do not need to fear is that no disaster will destroy us. There's an irony here. We deserve disaster. We have harmed others with our words and actions. We have taken for granted the safety and peace that God gives to us. We deserve disaster. But our gracious Lord has graciously given to us repentance. And he has redeemed us by the Savior that was born and died in the promised land.
What that means for us is that we do not need to live in fear. Disaster will not destroy us. There is this amazing promise that we belong to the Lord. And disaster is controlled by the Lord. So he will keep disaster away from us. And, yes, there will be those times when disaster enters our lives and the Lord allows it. But he will use that for our ultimate good—even if we do not see it at the time. That gives us courage and strength to live our lives in confidence, not in fear. But there's more: "3 I have given Egypt as a ransom for you, Cush and Seba in your place. 4 Because you are precious in my sight and honored, and I love you, I will give people in exchange for you and nations instead of your life. 5 Do not fear, for I am with you; I will bring your descendants from the east, and gather you from the west. 6 I will say to the north, 'Give them up!' and to the south, 'Do not hold them back!' Bring my sons from far away, and my daughters from the ends of the earth— 7 everyone who bears my name and is created for my glory. I have formed them; indeed, I have made them."" (Is. 43:3–7 CSB17)
Do not fear. That's what the Lord invites us to do. Do not fear because no disaster will destroy. But also do not fear because no distance will disown. Here, again, we need to look at the context. The Lord kicked his own people out of Israel because of their wickedness. They lived in fear that they and their children and grandchildren would be divided by distance from the Lord—his presence and his forgiveness. So, with such kind and compassionate words, he promises to gather them.
These words too, speak to us today. There is a temptation that comes with freedom. We want to grow and be on our own where nobody's going to tell us what to do. And what we so desperately want, we get. There's nobody to tell us what to do—and that's precisely the problem. When we are separated by distance from our church and our family, there are unique temptations to sin that come simply because there's the distance involved. And sadly, when we have these temptations to do what we want without anyone telling us what to do and give into them, who is there to speak to us of forgiveness and redemption?
That's where these words are so meaningful to us. No distance will disown us. For the Lord will gather us. COVID has brought us unique challenges. But there are a few really wonderful changes that have come out of this time. There are online options for growth in God's word that were not there before. How amazing it is to think that there are people out there who are in the middle of nowhere, wanting, yearning to be with their fellow Christians and cannot. But they have access to words of gospel comfort that they didn't have access to before.
The Lord gathers. But he also gathers in another way. For we all know that it is not enough to worship and learn just on the internet. We need each other. And there are times we might not be able to be surrounded by God's people in church. I think of people I've ministered to who have had to move to the middle of nowhere because of a job change or serving in the military. They wrestled and struggled to be connected with God's word. But then those years passed. Stability came. And the Lord gathered them to churches where they, with God's people, could gather around God's word.
But, my friends, the final, and most beautiful way this happens is in heaven itself. One of the saddest parts of living in a world affected and afflicted by sin is that distance and geography is often our enemy. I think of parents and grandparents. They spend time with their children when they are young. And their children naturally when they are in their teenage years yearn to be on their own. So they push away. And then they finally move away. And for many people, especially today, they never really get them back. They live in different states all their lives. What an amazing promise this is to us. Satan has turned distance into our enemy. But the Lord takes away our fear. He gives us his word now. And as we hold onto our faith by holding onto his word, he promises that there will be a time when he will gather us all to himself in heaven.
And notice what that fact does. It teaches us and moves us to let go of the fear. Disasters will not come. But even if they to enter our lives the Lord is in control of them. So the fear begins to fade. Distance, instead of disowning and dividing us, is turned into our ally. For we have access to God's word wherever we are. But, we will finally be gathered to him in heaven—all together, forever. It's one thing to say, "do not fear." It's another thing entirely so show why there's no need for fear. And that is what our Lord does. Amen.
---
1
"אַל־תִּירָא֙"
(Is. 43:1 BHS-T)
2
"גְאַלְתִּ֔יךָ"
(Is. 43:1 BHS-T)