Easter 6 – Christ conquers Satan: whose side are you on?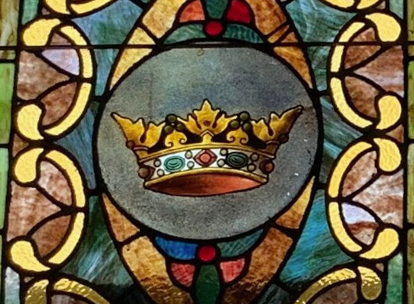 Let Us Show Love
Redoubtable. Some words have just simply lost their meaning. Years ago, I was watching a TV show and there was a guy who made it a point to use the word, "redoubtable" since, nobody knew what it meant. Has the word, "love" become that sort of word to us, as English-speaking Americans? Just think of how flexible that words is. I can say that I love my wife, my girls, my calling as pastor. But I can also say that I love pizza. At that point has the meaning of the word begun to break down? This morning God's word directs us to that word, love. And we'll see that this word as it's used in the bible is full of meaning and hope. In 1 John we read these words: "Dear friends, let us love one another, for love comes from God. Everyone who loves has been born of God and knows God. Whoever does not love does not know God, because God is love. This is how God showed his love among us: He sent his one and only Son into the world that we might live through him." (1 John 4:7–9 NIV11-GKE)
In these words John invites us to show love towards one another. And that invites us to ask the question, "what is love?" In our own context today, love is basically having a strong postitive feeling toward someone or something. Notice here that the bible doesn't use the word in the same way. This love is the sort of love that does what is best for its object. Look at how the Father showed this sort of love for us: He sent his Son to us and for us. And the Father knew what this meant. It meant that his Son would be mistreated, betrayed, and put to death for us. This is not the sort of self-seeking, self-gratifying love that we see modeled in the world around us. It is the sort of love that seeks and does what is best in the person it loves.
And here is where we see our own failures as humans on this earth. For we can see in our hearts and in our lives times when we do not show this sort of love. We do not do what is best for the people we say we love. Doing what is best for the person means correcting them in love. But it's easier to overlook than to correct. Doing what is best means being patient with those we correct. But it's easier to crush others with our words and then justify it by saying, "I'm just a straight-shooter.'" It's easy to do activities with others that I want and like instead of listening and learning from others and doing what they want. All too often we absorb and definition of love that the world has, not what the bible shares.
That's why these words are so vital to go back to. For in these words don't just show what true Christian love is. They also show us that our Father in heaven had and showed this sort of love to us and for us. The Father sent his son to pay for our sin. There was a price and a cost. And that price and cost was his own son. And because the Father paid that price with the blood and life of his own Son, we are redeemed. We are forgiven. All the times we overlook rather than correcting; all the times we crush rather than correct; all the times we have other people do what we want, pretending that what we want is what they want—all those sins and more are covered and paid for by the great, amazing love our Father has for us. That, my friends in Christ, is love. But John continues: "10 This is love: not that we loved God, but that he loved us and sent his Son as an atoning sacrifice for our sins. 11 Dear friends, since God so loved us, we also ought to love one another. 19 We love because he first loved us. 20 Whoever claims to love God yet hates a brother or sister is a liar. For whoever does not love their brother and sister, whom they have seen, cannot love God, whom they have not seen. 21 And he has given us this command: Anyone who loves God must also love their brother and sister." (1 John 4:10–11, 19–21 NIV11-GKE)
Let us show Christian love. That's what God's word invites us to do in these words. And first, we get to see what love is. Love is doing what is best for the other person. But notice where these words go from here. The question from here is not, what. Instead, it's how. How will we find the motivation to do what is best for others? We have this demand from our Lord to show true Christian love to each other. And, inside of us there is this desire to do this. How do we follow through and show this sort of love? This is where it gets interesting. One of the patterns we can easily fall into is that our consciences get crushed and then we follow that up with desperate action. There are these times we see our faults and failings. There are these times we see our own selfishness. We know it's wrong, so we resolve to do what it right. And we strive then to do what is best for the other person. But it all falls apart. It collapses because it doesn't have the right motivation. We try to show love to others out of shame and guilt. And then we act surprised that we can't keep it up. And we can't find joy in it.
What are we doing wrong? How can we find the right motivation in doing what is best for others? The motivation does not start within each of us. Instead the motivation starts with God. Twice in these words John makes that point. What is love? It's not that we love God—it's that he loves us. Notice here that he is speaking about motivation. Before we look inside of our hearts to find motivation to love others, we look to God. And then he says that we love because he first loved us. When we begin to see how much we are worth in God's eyes we will then see how much others are worth. When we see how much we are forgive, we will then begin to see how forgiven others are and show that. When we see how God treats us as his children, then we will naturally, spontaneously, joyously treat others that way too.
And notice what this means for you in your life. If you ask the question of how you can show love to your teacher who just keeps assigning one lesson after another, or how do you love the husband who just won't put his dirty socks in the clothes hamper, or how do you show Christian love to that person at work who you have a hard time getting along with, the motivation starts in gospel forgiveness, not in the need for that person to be shown love. Or to put it differently, each of us needs to hear these words of forgiveness all the time and preach these words to ourselves—each of us. For, from that foundation and fact, we will be at peace with God. And then, instead of trying to love from an empty well, the Father's love toward us will overflow to them.
It is true that the word, "love" in english is vague and fuzzy. So let us return again and again to what the bible says about love and show that love. First, what is love? It is doing what is best for the other person. Second, how do we love? We love because he first loved us. Amen.