Not to be served but to serve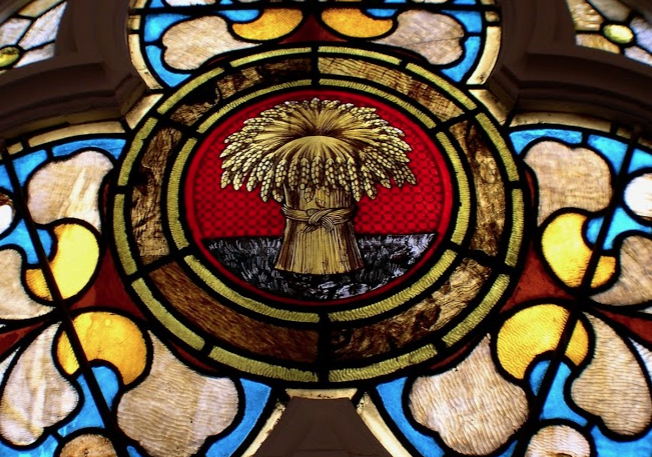 Read the sermon
Consider God's Kindness
It's all undeserved. Has there ever been a time when you had the opportunity to read God's word or hear it in a sermon and be amazed and God's kindness? In 2003 I graduated from our seminary. And I remember us all gathered together in the huge gym at the Seminary. We were all there listening to a sermon. And, I don't even remember what part of the bible the professor was preaching on. But I remember thinking how close I had grown to these men who sat around me. And the obvious began to dawn on me. Some of these men I will not see face to face for decades in the future. And I was amazed that God would give me friends—true friends in Christ. These are the sort of friends that corrected me when I said foolish words and carried out foolish actions. And when I needed to hear those precious words of forgiveness, they were there to share those words in the ways I needed to hear them. And I remember thinking to myself: All this is undeserved. To have friends like that was a rich, amazing undeserved gift.
When have there been times in your life you have had the same? All of that I mention this morning because that is the thought in David's mind in the words we are about to read. He had read and pondered God's word. And in a time of quietness and peacefulness he had the opportunity to consider God's kindness—God's kindness to him. And before we talk about these words in 2 Samuel 9, we need to pick up the context leading up to these words. Way back before King David was a king he was the youngest son in a very unremarkable family. But that changed. King Saul took all the best of the land to himself. And so David was taken by King Saul to the palace. He was alone and on his own—away from his family and whatever friends he had growing up. But the Lord, in an amazing display of his kindness, gave David a friend. He met Jonathan. David was a warrior through-and-through. And so was Jonathan. That bound them close and tight. For they had so much in common. But even more important than their skills in life was their faith in God. There, even-more-so he found a true friend. And both that friend and that friendship was undeserved. And David knew this.
Their friendship grew. But there was a huge obstacle in the way of their friendship. That obstacle was Saul. Just as Jonathan and David grew in their friendship, so also did Saul, Jonathan's dad's hatred of David grow. Finally then, Jonathan and David had to say goodbye. David had to run for his life so that Jonathan's father would not kill him. As they said, "goodbye," this is what Jonathan said to David: "14 If I continue to live, show me kindness from the Lord, but if I die, 15 don't ever withdraw your kindness from my household—not even when the Lord cuts off every one of David's enemies from the face of the earth."" (1 Sam. 20:14–15 CSB17)
These are some of the saddest words in the bible. Jonathan says these words knowing what the Lord has planned. He knows that, day by day, year by year, the Lord is going to raise David up. And he knows what that means for himself. He knows that Saul will, day by day, year by year, be cut off. Jonathan knows that in order for David to stand, Saul will have to fall. And if Saul falls, then he too, as Saul's son might very well fall in battle with him. And that's precisely what happened.
So then, years later, David has the opportunity to ponder God's word and his promises. He is able to look back and see how undeserved the friendship that he had with Jonathan was. But even more than this, he knew that Jonathan trusted in the Lord. And through this, he knew that he would see Jonathan again—and not just again. He would see him forever in heaven.
This amazing history between Jonathan and David gives us the opportunity today to stop, pause, and consider God's kindness to us. For his kindness to us is just as undeserved. He has placed people in our lives who know us and care for us. Friends like Jonathan was to David. These brothers and sisters in Christ you most likely are sitting with in your pews this morning are treasured gifts. What an amazing and undeserved gift it is to have a strong Christian friend who has spent time pondering God's word. That is the person, who when you are going down a bad path, will stop you and correct you out of love for you. That is the person who will lift you up with words of Christ's forgiveness for you and to you when no one else knows what to say. These words we about to read first of all invite us to consider God's kindness to us. And when that is in place we are able to read what flows from that kindness. And so, in 2 Sam 9, we read: "1 David asked, "Is there anyone still left of the house of Saul to whom I can show kindness for Jonathan's sake?" 2 Now there was a servant of Saul's household named Ziba. They summoned him to appear before David, and the king said to him, "Are you Ziba?" "At your service," he replied. 6 When Mephibosheth son of Jonathan, the son of Saul, came to David, he bowed down to pay him honor. David said, "Mephibosheth!" "At your service," he replied. 7 "Don't be afraid," David said to him, "for I will surely show you kindness for the sake of your father Jonathan. I will restore to you all the land that belonged to your grandfather Saul, and you will always eat at my table." 8 Mephibosheth bowed down and said, "What is your servant, that you should notice a dead dog like me?" 9 Then the king summoned Ziba, Saul's steward, and said to him, "I have given your master's grandson everything that belonged to Saul and his family. 10 You and your sons and your servants are to farm the land for him and bring in the crops, so that your master's grandson may be provided for. And Mephibosheth, grandson of your master, will always eat at my table." (Now Ziba had fifteen sons and twenty servants.) 11 Then Ziba said to the king, "Your servant will do whatever my Lord the king commands his servant to do." So Mephibosheth ate at David's table like one of the king's sons. 12 Mephibosheth had a young son named Mika, and all the members of Ziba's household were servants of Mephibosheth. 13 And Mephibosheth lived in Jerusalem, because he always ate at the king's table; he was lame in both feet." (2 Sam. 9:1–2, 6–13 NIV11-GKE)
God's kindness that was shown to David then, naturally overflowed and was shown through David. David knew where Jonathan was now. And he knew he would see him in the Lord's good time. But, as he considered God's kindness to him, he realized there was something he could do now. He could find whatever remnant remained of Jonathan's family. He could find them and show God's kindness to them. So David calls Jonathan's son, Mephibosheth. How difficult that must have been for Mephibosheth. It was difficult because he was crippled. Presenting himself before the king is a difficult task when you cannot walk like all the others can. But what made it even more difficult was fear. There was a death-struggle for the throne. And Mephibosheth was born into the wrong side. Mephibosheth knew that David would have every right to kill him because of what his grandfather, Saul did.
But notice David's thoughts and words all throughout this part of God's word. All his words were focused on making sure that everyone and especially Mephibosheth knew that he was showing Mephibosheth kindness from God.
And with that then, through these words still today God gives us the opportunity to consider his kindness to us. This only comes when we spend time in God's word, considering what God's kindness is and how undeserved it is. Then we have the amazing invitation not just to consider God's kindness to us. We also have the opportunity to consider God's kindness through us. And notice the shape that takes in these words. David went out of his way to serve someone who needed his help. So too, today, God's kindness to us moves and drives us to show his kindness through us to others. And, as I look around me I can see that sort of kindness that those before me went out of their way to show. I see it in an elevator, so that those who cannot get around like we can can be included. I see it in a solid communion rail so that, when your joints don't work like they used to, you can receive the Lord's Supper as you need to, standing or kneeling. I see it in the hollowed out area in the back, so that when you cannot get up these steps, there is a place to receive the Lord's Supper.
Those are just the ones I see. What an amazing thought it is to know that there are thousands more examples that I don't know of. So, my dear friends in Christ, take these words to heart. Consider God's kindness. Consider God's kindness to you and through you. For it is all undeserved. Amen.
---