Epiphany 6 – God's Grace Blesses Us in Every Circumstance of Life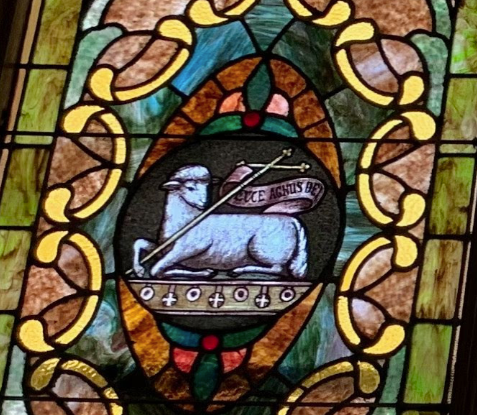 Read the sermon
Listen to Love
Set the table. When I was a young boy, one day my mom gave me a job. It was my job to set the table. I liked not having to set the table. So I complained. But then I gave in and began to set the table. I took the plates out and set them on the table. But very soon I learned that setting the table wasn't that easy. For my mom let me know before I set the table I had to clear all the unwanted items off the table. So I did just that. And then I began to set the table. But oh-no, I acted too soon. Setting the table also meant taking a washcloth and wiping all the dust and crumbs off of the table. Then—and only then could I begin to set the table.
I mention this today because, in the words we are looking at this morning, that is what Jesus is doing Jesus is setting the table. We will hear Jesus speak to us an important sermon about love. But first he has to clear the table. First he has to clear away the unwanted, unneeded, unhelpful ideas before we can speak about what love is. In Luke 6, Jesus goes into detail: "17 He went down with them and stood on a level place. A large crowd of his disciples was there and a great number of people from all over Judea, from Jerusalem, and from the coastal region around Tyre and Sidon, 18 who had come to hear him and to be healed of their diseases. Those troubled by impure spirits were cured, 19 and the people all tried to touch him, because power was coming from him and healing them all." (Luke 6:17–19 NIV11-GKE)
Notice the context. This was a large crowd from all around the area of Israel and even beyond its borders. And what held them together is oppression. They were financially oppressed. They were poor. So, the benefits of medicine that were available at that day were not available to them. And they were oppressed spiritually. Elsewhere Jesus says that they were like sheep without a shepherd and that all who came before were liars and robbers.1 So Jesus clears the table for us. And now he is ready to set it. We read: "20 Looking at his disciples, he said: "Blessed are you who are poor, for yours is the kingdom of God. 21 Blessed are you who hunger now, for you will be satisfied. Blessed are you who weep now, for you will laugh. 22 Blessed are you when people hate you, when they exclude you and insult you and reject your name as evil, because of the Son of Man. 23 "Rejoice in that day and leap for joy, because great is your reward in heaven. For that is how their ancestors treated the prophets." (Luke 6:20–23 NIV11-GKE)
Listen to what love is like. Love lifts up the oppressed. Put yourself in the shoes of these people. You are poor. You are un-helped by those in government over you. You are unheard when you cry out to them. In that situation you will begin to conclude that you are unheard and unhelped because you are not worthy of being helped. And it's an enticing trap. For we all know that there are times that we mess up, and properly and rightly, people are angry at us. But, that is not always the case. Sometimes people are mean because they are mean. And the sort of people they are becomes exceedingly true as Jesus speaks the final words in this section. Why is it that they revile and reject you? Because of the Son of Man.2 With your words you share the truth of what God's word says. With your life you reflect what God's word speaks. And their meanness towards you has nothing to do with you.
My dear friends in Christ, when this happens, it is easy to conclude that people are mean to you because you must have committed a sin to deserve it. But, there are times people are mean to you. And it's not your fault. Listen then to what love is. Love is lifting up that person, letting them know that they do not have to put this burden of blame on themselves. Instead, Jesus in a strange and beautiful way, when people revile and reject us for sharing or showing our Christianity, we are invited to rejoice. Why? For there have always been mean people. And they treated the true prophets in the Old Testament the same way. This is Jesus' way of letting us know that after the fall into sin, this is now the new normal. Jesus invites us to listen to what love is. Love lifts up the oppressed. But love goes in a different direction too: "24 "But woe to you who are rich, for you have already received your comfort. 25 Woe to you who are well fed now, for you will go hungry. Woe to you who laugh now, for you will mourn and weep. 26 Woe to you when everyone speaks well of you, for that is how their ancestors treated the false prophets." (Luke 6:24–26 NIV11-GKE)
Listen to what love is. Love lifts up the oppressed. But love also lowers the proud. One of the strange temptations we face is that when people are mean to us, we replace those who are mean with those who will like us and support us. The problem with this is that we are not always right. Sometimes we need to be corrected. And if we give into this temptation our life will be filled with people who like us and support us no matter what we do. And then, notice the stark warning Jesus gives. Their fathers treated the false prophets in this way. If Facebook and Twitter existed 500 BC the false teachers would have had tens of thousands of likes and shares.
Listen then, to what true love is like. Love is finding someone who will lower you when you are proud. But they will do so in the right way. They will speak to you with honesty. Find then people you can trust to tell you the truty. But they will also speak to you with dignity. You are a baptized child of God in whom God dwells by his Spirit. The people on the plain invite Jesus to speak because they want to listen. So he tells them a sermon about love. Love lifts up the oppressed. Love lowers the proud. And in our final words he adds one more vital thought: "27 "But to you who are listening I say: Love your enemies, do good to those who hate you, 28 bless those who curse you, pray for those who mistreat you." (Luke 6:27–28 NIV11-GKE)
Love lifts up the oppressed. Love lowers the proud. And finally, love lives out what is best. Notice how Jesus sets the table, but first, he clears the table. Love is what you live out, not what you feel. Love is doing what is best for the other person, what primarily what you might feel for a person. And this if vitally important for us to think through. For if we don't, we can end up in a strange place where someone mistreats to the point of abuse.3 And if we don't clear the table first, we might conclude that we're supposed to feel affection for someone who treats us horribly. Instead, Jesus sets the table by telling us that we are to treat people well.4 The word, love, is focused far more on actions than feelings. And doing good means treating a person well by wanting what is best for that person. In cases of mis-treatment towards you, that might mean separation. When David was mistreated by Saul, he surely didn't have fond feelings toward Saul. He ran from him. For that is what was best for Saul and for David. He also sought to correct him.
Finally then, we ask the question, why. Why is it so important for us to treat well those who mistreat us? First of all, our hatred and anger towards them can rob us. It can rob you of your spiritual health. If you focus on the mistreatment done towards you, you will begin to see every person as if they are potential people who will mistreat you. But it will also rob you of your spiritual health. Where your soul leads, your body follows. If your soul is clenching in anger against those who mistreat you, don't be surprised if your body follows. And a body clenched all the time will begin to be unhealthy.
But this hatred also robs us of our time too. Years ago I remember visiting with a grandpa in his back yard. He invited me over. And his kids and grandkids had come over too. And the grandpa told me of how he was mistreated years before this. And you could see the anger and outrage. And in a certain sense, it was justified. We have a right to be outraged at mistreatment against us. But I could see the irony and the tragedy. There, on the other side of the lawn, were his grandkids. And every minute he spent with me raging about the past was a minute he could not be in the present with the joy of spending time with his grandkids.
Jesus closes these words by saying, "But to you who are listening" (Luke 6:27 NIV11-GKE) Let our prayer be that, by God's Holy Spirit, we would be those listening to what love is. Love lifts up the oppressed. Love lowers the proud. Love lives out what is best. Amen.
---
1 John 10
2 "ⲉⲛⲉⲕⲁⲧⲟⲩⲩⲓⲟⲩⲧⲟⲩⲁⲛⲟ̅ⲩ̅" (Luke 6:22 GNT-ALEX)
3 "ⲉⲡⲉⲣⲉⲁⲍⲟⲛⲧⲱⲛ" (Luke 6:28 GNT-ALEX)
4 "ⲕⲁⲗⲱⲥⲡⲟⲓⲉⲓⲧⲉ" (Luke 6:27 GNT-ALEX)