Easter 5 – The Vine produces fruit in His branches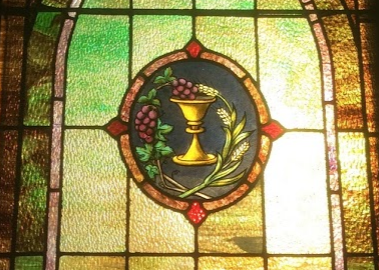 Be Branches
How do you care for plants? When I was a boy I remember my mom taking my brother and me to a drug store. And there, close to the check-out lane, was a section of plants. They were cacti. We asked if we could have them. And mom said, "yes." So we brought them home. And we discovered a very important lesson. If you have a cactus, you don't need to do too much to take care of it. Actually, my brother's cactus died because he gave it too much water. I, on the other hand, showed superior wisdom by neglecting the plant. So that cactus grew and grew. After I moved away from home I came back one summer and the plant was gone. I have a feeling mom and dad got rid of it because it just kept getting bigger and bigger. How do you care for a plant? Cacti are fairly low maintenance. In the words we look at this morning, Jesus tells us that he is the vine. And we are the branches. But unlike cacti, we are no low-maintenance. We require daily and constant care. And so, in John 15, we read: "1 "I am the true vine, and my Father is the gardener. 2 He cuts off every branch in me that bears no fruit, while every branch that does bear fruit he prunes so that it will be even more fruitful. 3 You are already clean because of the word I have spoken to you." (John 15:1–3 NIV11-GKE)
Jesus starts off these words in a very shocking and abrupt way. He starts them off with a warning. He says that he cuts off every branch that does not bear fruit.1 These words are a warning against impenitence. They are a reminder to us that God wants us to pursue and produce what is good and right and noble. And if we turn away from him again and again and kill any yearning for good inside of us, he will cut us off.
But where he goes from there is fascinating. He cuts off every branch that does not bear fruit. But he doesn't leave the ones that bear fruit alone. Instead, he trims and cleans them. We use the word, "prune" here. But the word is actually, "cleans."2 Notice the point. We would expect that since we are branches connected to the vine, we would be free and immune from cutting. Nope. The fact is that we need pruning and cleaning. You think about the child, for example, who falls down and skins his elbows or knees. He goes to his mommy expecting help and healing. Instead, what does she do? She puts this glow in the dark orange colored liquid on his owies. And it makes the wound hurt worse. There is cutting and cleaning that Jesus does to us too.
And this happens so many times and in so many ways in our lives. It happens when we go out into the world and we have to speak to people. We plan the words out in our brains, and yet they come out all wrong. And, when we are by ourselves, we think to ourselves that Jesus is omniscient and omnipotent. He could have done something. Instead, he let us make bad mistakes. It's the example of when there are health problems that come into our lives. And we pray that God would take the problem away, once, twice, maybe even thousands of times. And he doesn't seem to listen to our prayers.
What is all of this? It's pruning. It's not just cleaning and cutting and pruning. But it is pruning. It is our good and gracious Lord making sure that our attention, energy is directed to him and from him. And, as this happens in our lives, we learn to receive the pruning. What an odd fact to be at home with. But we are. We can be at home with the pruning that God does because we see where it leads. It leads in two directions: First, it leads us away from pride. Think of how haughty we would be if we knew the answers before we asked the questions. Think of how easy it would be to forget both our Savior and the place he has prepared for us in heaven if there were not pains and pressures here on earth. Second, it leads us to Jesus. It teaches us throughout our long lives to learn from Jesus and lean on him.
How do you care for plants? You prune them. But notice where Jesus goes from here: "4 Remain in me, as I also remain in you. No branch can bear fruit by itself; it must remain in the vine. Neither can you bear fruit unless you remain in me. 5 "I am the vine; you are the branches. If you remain in me and I in you, you will bear much fruit; apart from me you can do nothing. 6 If you do not remain in me, you are like a branch that is thrown away and withers; such branches are picked up, thrown into the fire and burned. 7 If you remain in me and my words remain in you, ask whatever you wish, and it will be done for you. 8 This is to my Father's glory, that you bear much fruit, showing yourselves to be my disciples." (John 15:4–8 NIV11-GKE)
How do you care for plants? You prune them. But what also do you do with them? You make them produce. This is where Jesus' picture breaks down a little bit. All we can do is care for our plants. God is the one who makes them grow. Here Jesus speaks a promise. But before he speaks the promise, he speaks the warning. There is the warning that if we stay away from the words that Jesus speaks to us, we can do nothing. It should not surprise us that those who have no knowledge of what Jesus says have no energy to produce good.
But notice where Jesus goes after the warning. He extends to us a promise. As we are connected to Jesus through his word, he promise to produce fruit in us.3 There's a problem in this, though. Do you see fruit in your lives? Since you are a branch connected to Jesus, do you see fruit and flowers blossoming and growing everywhere? Sadly, we have to admit, in our every day lives what we see is our sin and our struggle against sin. That's where these words that Jesus speaks speak to us and give us rest and calm. He promises to us that there will be fruit. But notice what he does not promise. He does not promise that we will always be able to see it.
Year ago, there was a guy in a congregation I served in who really wrestled with anger. And there would be these times where he would see the trouble he got himself into because of his anger. Then he would come to me, wondering if there would ever be an end to his anger. And I was able to tell him two promises: First, I encouraged him to not look at his fruit. Instead, look to Jesus. For Jesus is the one who paid for his sin. Second, I directed him to this promise that Jesus speaks here. I told him that since he was connected to Jesus, there would be fruit. He might not always be able to see it. But it would be there. And I told him, "think what your sinful nature would do if you saw all the good Jesus moved you to do. You would swell with pride, looking at your fruit instead of the vine." Then, in small ways, I let him know of the fruit I had seen, the growth that was there in his own life.
And notice where that leaves us this morning. We can find rest in that promise. In these days, seasons, and decades where it seems like all we see is our sin and our struggle against sin, how wonderful it is to know that there is this promise here. There will be good that God produces in us. There will be good that we carry out. We do not have to wait till we are in heaven to do good. But we find rest not in seeing all of that good. We find rest in the promise from Jesus that it will be there in our lives.
So, my dear friends in Christ, be what you are. Be branches. Be branches that rejoice in pruning. And be branches that find rest in this promise of produce. Amen.
---
1
"ⲁⲓⲣⲉⲓ" (John 15:2 GNT-ALEX)
2
"ⲕⲁⲑⲁⲓⲣⲉ" (John 15:2 GNT-ALEX)
3
"ⲟⲩⲧⲟⲥⲫⲉⲣⲉⲓⲕⲁⲣⲡⲟⲛⲡⲟⲗⲩⲛ·" (John 15:5 GNT-ALEX)